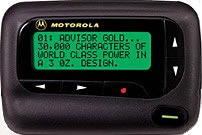 Addcom Electronics owns and maintains its infrastructure throughout New York State & Beyond.
 Voice Pagers – Only paging carrier in Upstate NY that maintains voice paging.
Numeric Pagers
Alpha-Numeric Pagers
Custom & Generic Greetings are available.
Email Paging
Internet Paging (Send pages right from your computer!)
Voicemail
Local & Wide area coverage, NYS and Beyond
Local / National News & Sports
Severe Weather Alerts
Group Paging
Design, install and maintain a complete In-House Paging System.
 Addcom paging is proud to serve our customers with the best-maintained system and a complete LOCAL repair facility in North Syracuse. No need to send your pagers out to get them serviced. We provide personal services such as loaner units and "hot" backup pagers.
At Addcom, health care providers' pagers are put on a priority basis in our paging terminal. During heavy "traffic" times, this ensures that health care providers are given the highest priority status, ensuring pages are promptly received, usually within a few minutes or less. Paging is still the most effective way to communicate. It is too expensive and unreliable to use cell phones when a pager will do the job at a fraction of the cost.